So, you are in a hurry and just want to know what Spanish wine to grab off the shelf at the supermarket or ask for at your local wine shop for your next dinner party. We've got you covered—no rambling intros or wine history lessons, promise!
Best Spanish red wines
Rioja
Rioja is the most important region in Spain for premium reds and is Spain's most famous wine for good reason. When in doubt, an aged Rioja is a no-brainer. If you can afford it, buy a Rioja Gran Reserva. These full or medium-bodied wines taste of red fruit flavors like strawberry. The barrel ageing ensures silky soft tannins, and they often have vanilla and coconut aromas. Some develop savory animal or vegetal flavour (mushroom, meat, leather) Yum!
Rioja labelling
The main grape variety is Tempranillo but it is often blended with Garnacha. Under Spanish law there are labelling terms that indicate minimum periods of ageing in barrel and bottle. It has been traditional to age wines for long periods in oak barrels in Spain. Many producers exceed the minimum requirements but the different appellations/categories are worth noting (for red wines):
Joven – no ageing required
Crianza – aged for 2 years, 1 year in barrels
Reserva – aged for 3 years, at least 1 in barrels and six months in bottles
Gran Reserva – aged for 5 years, with at least 2 years in barrels and 2 years in bottles
White Rioja follows similar guidelines but has some differences.
Ribera del Duero
Ribera del Duero is another important wine region in Castilla y Leon, northern Spain that produces full-bodied, high-quality red wines made mainly from Tempranillo grapes. Expect to taste concentrated black fruits, spices (black pepper), savory notes and smooth tannins.
The aging requirements used for Ribera del Duero are similar to Rioja, as outlined above.
According to DO regulations, Tempranillo must make up a minimum of 75 percent of red wines, but many are 100% Tempranillo. The balance is usually made up mostly of Cabernet Sauvignon, Merlot and Malbec.
Priorat
Priorat, located just south of Barcelona, is another region that produces high-quality red wines. They are wines that age well, and you should check when buying that your wine is ready to drink if you are not looking to keep it to age.
It is made primarily from Grenache and Carignan, but some include Merlot and Cabernet Sauvignon, among many others for additional complexity. It tastes of dried red and black plums, black cherry, cassis, chocolate and licorice notes and has high tannin levels (that benefit from ageing). Many are aged in barrel and bottle before selling (and follow similar guidelines to Rioja) but it is often not noted on the bottle.
Spanish white wines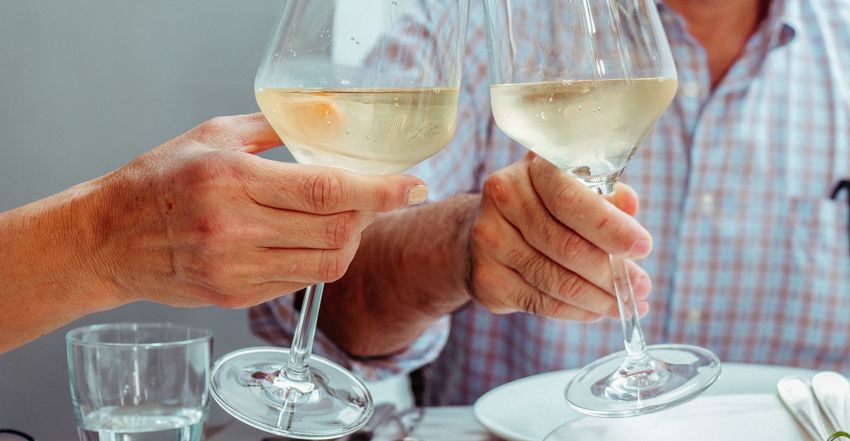 Albariño
Albariño is grown in Rías Baixas in the north west of Spain. It is made to strict standards the ensure high quality wines, including a tasting committee that samples wines for quality assurance.
It is a light to medium-bodied wine with fresh green and citrus fruit (apple, grapefruit, pear). It is usually unoaked, with refreshing high acidity.
Cava
Cava, a sparkling white wine, is probably the most well-know Spanish white wine.
Cava is the Spanish term for traditional-method sparkling wines. It is made using the same traditional methods as Champagne, but it is made using different grapes.
Cava is made from local Spanish grape varieties with Macabeu being the primary one. It has fruit flavors (pear), medium acidity and some autolytic notes (toast, biscuit, bread).
If you are looking for a quality sparkling wine at a great price, Cava is a good bet.
Tip: The term Brut which you may see on a bottle of Cava means dry. Sparkling wines are labeled according to sweetness. See infographic below for sweetness levels in sparkling wine.