Labelling terms for wine can be confusing and labelling for Champagne is no exception.
All sparkling wines, including Champagne, are made in a range of sweetness levels, so it isn't the case that one type of sparkling wine is sweeter or drier than the other. Instead, it is a question of knowing labelling terms in order to purchase the desired sweetness level for whichever sparkling wine you choose.
Labelling terms for Champagne
The EU has labelling terms to denote sweetness levels that must be used for sparkling wines. Many of these labelling terms are copied or are similar around the world. They are a good indication of sweetness levels, but the labelling terminology may differ depending on where you are. It is worth noting that there is a range within each level, so producers may be on the lower or higher end of these ranges.
Champagne dryness scale
The Champagne dryness scale refers to how dry or sweet a wine is from driest to sweetest. As you can see below the terms are somewhat confusing. 'Dry' for example sounds like it is not a sweet sparkling wine, but it is the third sweetest of seven and contains between 17-32 g/L. So, if you prefer bone dry or almost bone dry Champagne, you need to seek out Champagne labelled Brut Nature or Extra Brut.
The Champagne dryness scale, according to the EU labelling terms for sweetness levels in sparkling wine, is as follows from driest to sweetest:
Brut Nature: 0-3 g/l
Extra Brut: 0-6 g/l
Brut: 0-12 g/l
Extra Seco (Extra Dry): 12-17 g/l
Seco (Dry): 17-32 g/l
Semi-Seco (Medium Dry): 32-50 g/l
Dulce (Sweet): 50+ g/l
The terms 'brut' and 'sec' mean dry, but as you can see below from the infographic on sweetness levels in sparkling wine, even sparkling wines on the higher end of the sweetness scale can contain these terms.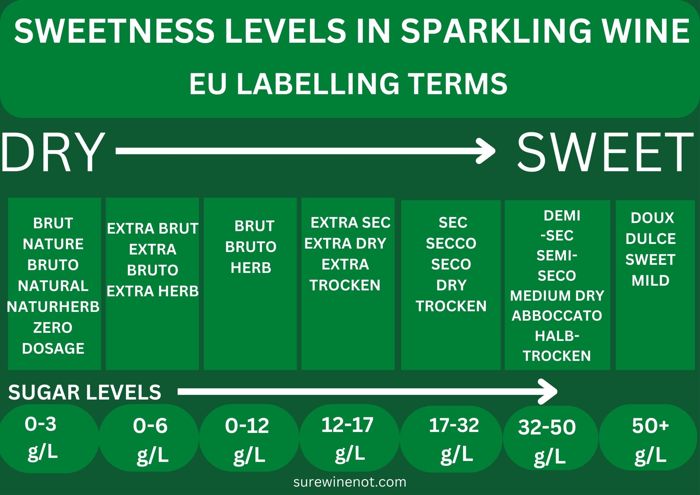 How to open Champagne safely
Incorrectly opened Champagne doesn't just result in a lot of spilt Champagne, it can also be dangerous. Flying corks can cause real damage, so it is worth learning how to open Champagne safely.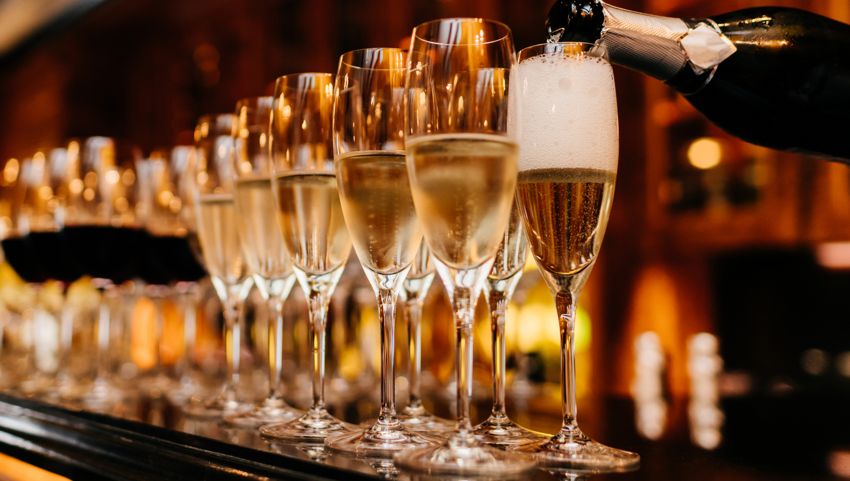 How to keep the bubbles in Champagne after opening
In the unlikely event of leftover Champagne, there are some simple tips for how to keep the fizz for longer.