Wine corks aren't as easy to recycle as many other items. It can take a little bit of effort to figure out where you can recycle in your local area, but it is well worth taking the time to do so.
Creating wine corks requires a lot of time and effort. Harvesting cork from a cork oak tree can take 25 years.
After that, cork can be harvested from the tree every nine years; however, only cork from the very first harvest of a tree is suitable for wine corks.
Wine and Champagne corks cannot be reused as wine corks due to bacterial concerns, but we can recycle them into many other useful objects, such as pushpin corkboards, coasters, flooring and used for all kinds of craft projects.
Composting wine corks
You can compost wine corks, but given the amount of time it takes to grow them, it makes sense to recycle them to be used as something else.
If you decide to compost your wine corks, break them into pieces beforehand. The smaller pieces will break down more quickly.
Alternatively, you can grind up your old corks to use as mulch for your garden.
Where can you recycle your wine corks?
Recycling wine corks in the United States
Recork
Recork is North America's largest wine cork recycling program. Launched in 2008, it is an alliance of businesses, including SOLE, and individuals who work together to collect and repurpose natural wine corks.
Cork Forest Conservation Alliance
Cork Forest Conservation Alliance campaigns globally for the protection and preservation of the Mediterranean cork forests, their inhabitants and biodiversity.
They run a cork recycling program since throughout the United States.
They work with various businesses, including supermarkets, hotels and wine shops and have drop boxes at various locations.
Whole Foods Market
Whole Foods Market has a recycling program through Cork ReHarvest.
Wine corks are accepted for recycling at all of its stores throughout America, Canada and the U.K.
CorkClub
CorkClub has a postal wine cork recycling program.
Ship your wine corks to them and they will recycle them and donate 2 cents for each cork received. WidgetCo, a company that makes cork products, funds the program.
They no longer provide shipping labels, so there is a shipping cost; however, if you are passionate about zero waste and recycling, it may be worth it to you.
You can collect your corks over time and ship them at your convenience.
They encourage people to get friends and local businesses, like restaurants, involved.
Local Authority
Check with your local authority for information on how to recycle wine corks in your area.
Local Businesses
Check with your local wine shops, wine bars, restaurants or supermarkets to see if they have a recycling program.
Recycling wine corks in the U.K.
Recorked UK has a recycling program in the U.K. that resells donated wine corks.
They supply free corks to charities and schools for craft projects, with a percentage of profits donated to charity; however, their website doesn't provide the exact percentage.
There are several collection partners around the country where you can donate your wine corks.
As previously mentioned, Whole Foods Market has a recycling program through Cork ReHarvest.
According to their website, all their stores in the U.K. recycle wine corks.
Recycle wine corks in craft projects
If you are the creative type or have kids that you like to do craft projects with, wine corks can be used in a myriad of different ways.
I made this wine cork coaster in less than an hour.
For example, Pinterest is full of amazingly creative and fun projects, from cork pin boards, Christmas wreaths, and phone holders to a kitchen backsplash!
You can find lots of ideas on our curated Best of wine cork crafts on Pinterest.
Recycling synthetic wine corks
Check with your local authority if they permit synthetic corks in recycling bins.
Recycling Biobased plastic corks
Some corks, like the one pictured below are biobased plastic corks. As you can see from the cork it has a recycling mark on it, so they can be recycled but should not be composted unless it specifically says so on the cork.
There is a lot of confusion around bio-plasics and their impact on the enviornment etc. There is currently no EU law in place that applies to biobased, biodegradable and compostable plastics.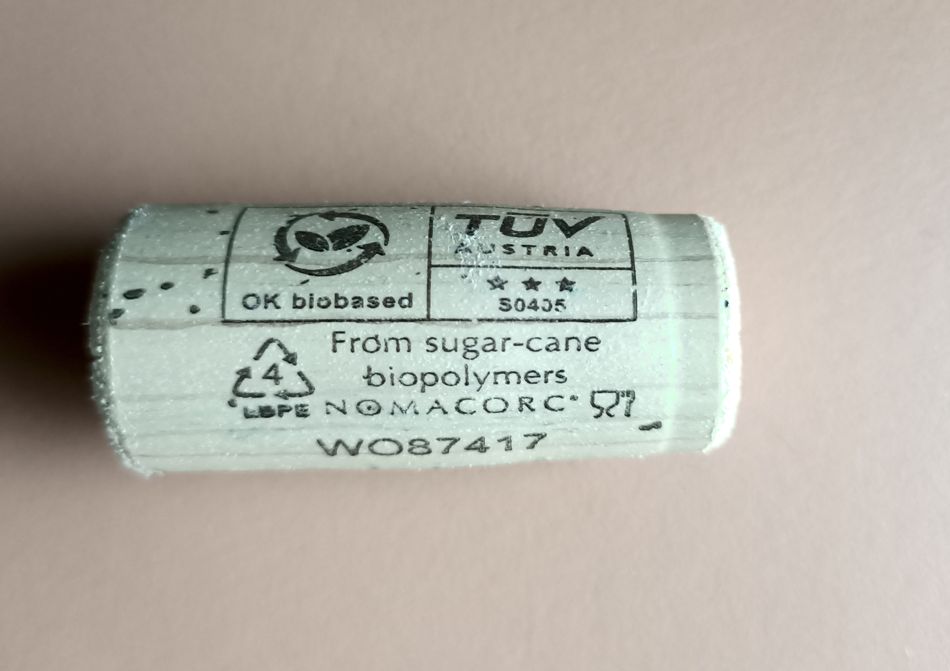 Recycling metal screwcaps
Recycle metal screwcaps with other metals.
Make sure to remove the screwcap from the bottle in order to sort correctly. Do the same with the metal lids on glass jars.