Crémant is a sparkling wine from France that is either white or rosé. It is made to high standards using traditional winemaking methods, known as 'methode traditionnelle', similar to methods used to make Champagne, including bottle fermentation. It can be dry or off-dry.
So, it is very similar to Champagne, but it is not Champagne because only sparkling wine made in the Champagne region can be called Champagne.
Sparkling wines designated Crémant ("creamy") originally named because their lower carbon dioxide pressures, compared with Champagne, were thought to give them a creamy rather than fizzy mouth-feel. Today, however, they may have full carbon dioxide pressure.
Where Crémant is made
Crémant is made in eight different appellations throughout France (and can also be found in neighboring Luxembourg):
Crémant d'Alsace
Crémant de Bordeaux
Crémant de Bourgogne
Crémant de Die
Crémant du Jura
Crémant de Limoux
Crémant de Loire
Crémant de Savoie
Due to the range of terroirs, climates and different grape varieties, Crémant represents a wide range of styles and expressions.
How Crémant is made
Crémant is made using the traditional method and it must spend a minimum of nine months on the lees (yeast). The regulations are only slightly less stringent than those in Champagne.
Regional rules can vary, but all Crémant wines must adhere to specific requirements. French appellation laws dictate that Crémant wine must be harvested by hand with yields not exceeding a set amount for their AOC. The wines must also be aged for a minimum of one year.
The method of production also involves a secondary fermentation that takes place in the bottle — as opposed to in a pressurized tank — in order to convert the still wine into sparkling. This lends depth and complexity to the wine, as well as autolytic (biscuit, toast, bread) notes from the extended contact with the yeast, which is disgorged (removed) after nine months.
See details for how sparkling wine is made using the traditional method in the infographic below.
Crémant sweetness levels
The EU has labelling terms to denote sweetness levels that must be used for sparkling wines, including Crémant.
The Champagne dryness scale, according to the EU labelling terms for sweetness levels in sparkling wine, is as follows from driest to sweetest:
Brut Nature
Extra Brut
Extra Dry
Dry
Medium Dry
Sweet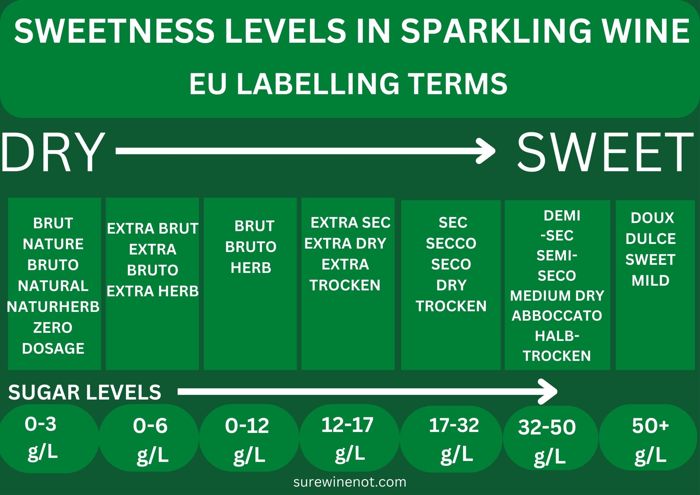 Crémant can be an excellent high quality substitute for Champagne, especially if you are on a tight budget. Try it and see for yourself!